The skiing map of Madarao
Three courses are set from the top of the mountain including the Giant, Crystal and Expert Course with max. gradient of 38 degree, all having the hard bahn which provides expert skiers with ample satisfaction. You can fully enjoy genuine powder snow.

Madarao is well known as the site for the frees style mogul event of the World Cup, the course used for which is now open to the public.

The uncombed tree-run courses were introduced in 2010 including AIR WAVE2, and RIVER LINE, followed by the addition of POWDER THEATRE in 2013 and 2 more ungroomed tree-run courses in 2014. These developments provide all skiers with the real thrill and pleasure of backcountry skiing.

Powder Paradise Madarao for movies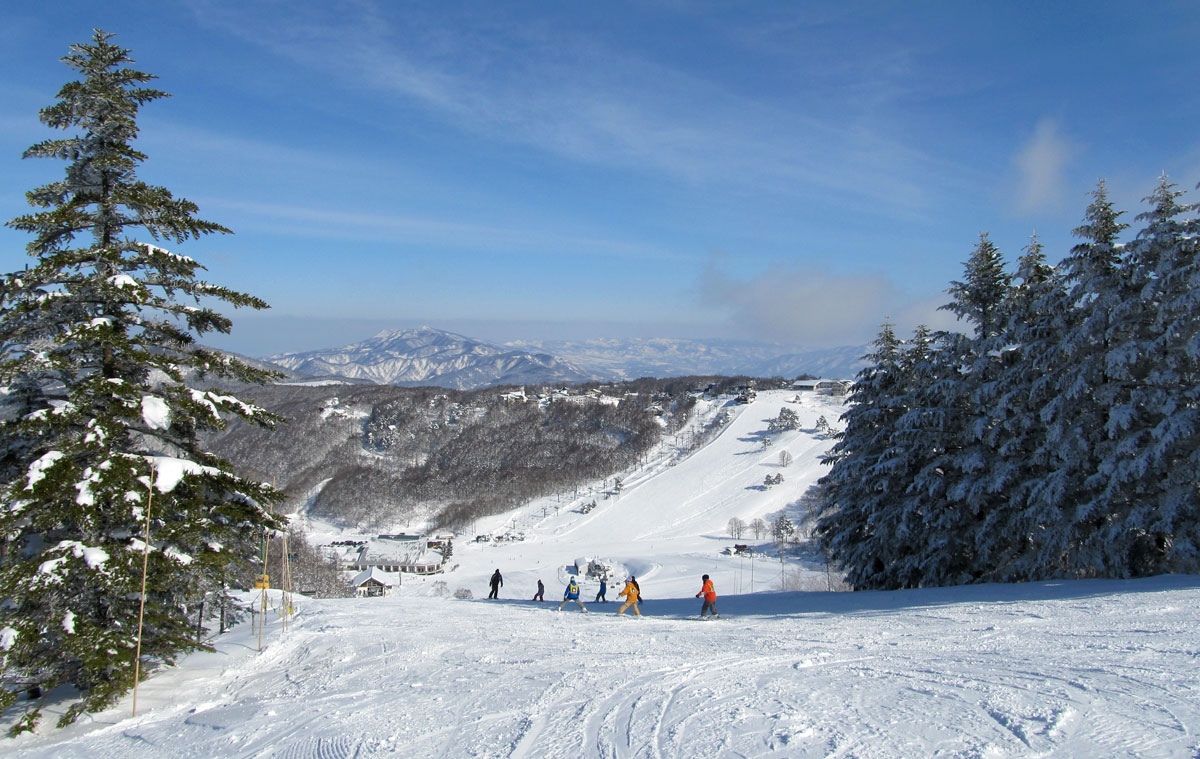 Skiing slope seen from the 2nd quad lift
・
 Information on the skiing area
As in March, 2017 with prices effective up to April, 2018
Lift operation    8:30 to 17:00

Operational period:  December, 2013 to 31/03/2014

The max. length of slopes:  approx. 3,000m

Altitude:  900m to 1,350m

Difference in altitude:  450m

Area size:  approx. 75ha

Course aptitude:  primary courses 30%, middle 40%, expert 30%

Chair lifts: 14 (28 courses) including 2 quads, 4 triples, 5 pairs and 1 single
 Lift prices  (Tangram is not included)


 price

adult

senior(above 55)

 kid (6~12 yrs.)

4 hour ticket

¥ 3900

¥ 3300

ー

valid within 4 hours of sale

one day

¥ 4500

¥ 4000

¥1500


not valid for evening lifts

two days

¥ 8100

¥7100

¥2500


three days

¥ 11900

¥10100

¥3500


 afternoon + evening

¥ 4800

¥ 4000

ー

valid for 12:00~21:00,  31/12 excluded

 evening ticket

 ¥1800 

¥ 1600

valid for 17:00~21:00,  31/12 excluded

one ride ticket

¥ 400

¥ 400

¥300

valid for a day of purchase

Madarao+Tangram 1 day

add ¥500

add ¥500

add ¥1500

 not valid for evening

Madarao+Tangram 2 days

add ¥1000

add ¥1000

add ¥2500

Madarao+Tangram 3 days

add ¥1500

add ¥1500

add ¥3500

Kids can use the Kids' Park at the above prices, but not the evening lifts.

6 day ticket:  adult ¥19000, senior ¥11600, not valid for the evening lifts.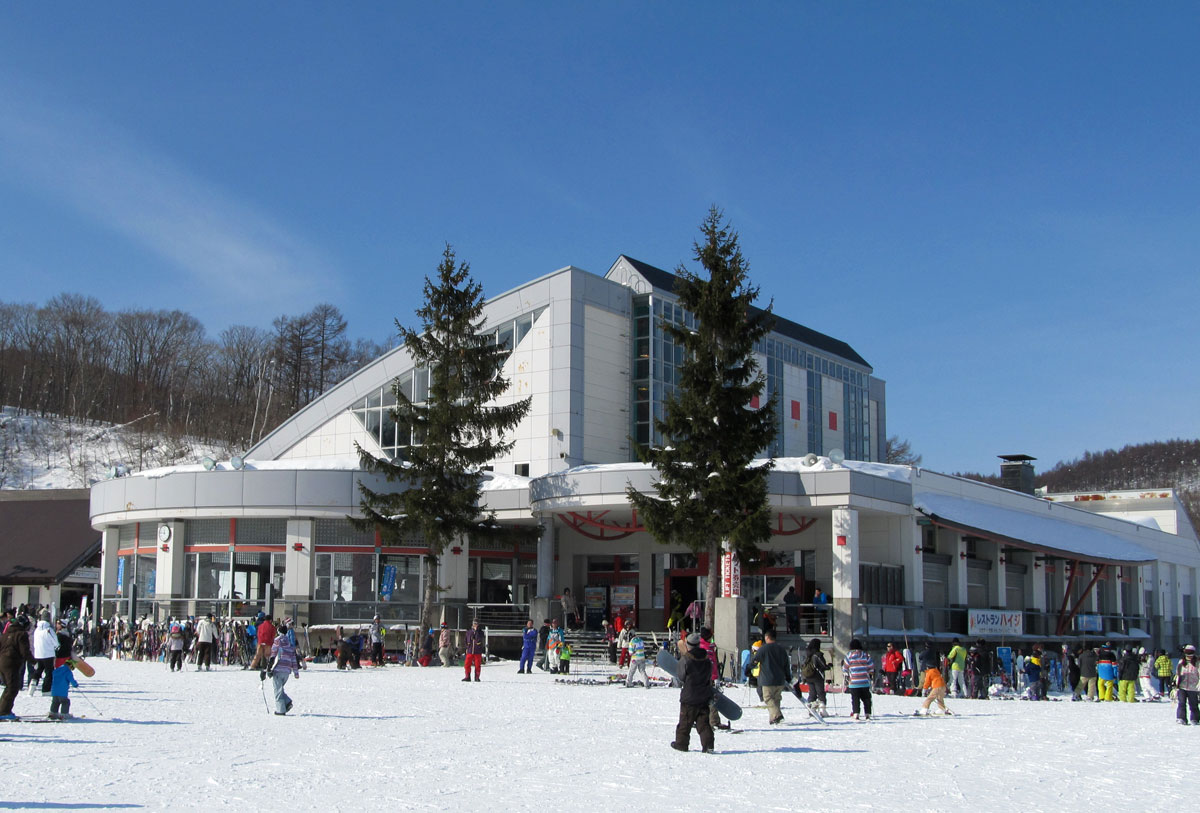 Restaurant Heidi
Having 800 seats, it is Madarao's largest restaurant. A variety of meal option guarantees something for every kier. Spicy tofu hot-pot (¥1100), gorgonzola-flavoured beef stew (¥1200), mushroom cream pasta (¥1000), crepes,etc.
Hot springs and restaurants in the skiing area:

onsen- Madarao onsen, Madarao- no- yu

Restaurant - Restaurant Heidi, Tyrol, Banff, and Trois Cinq
 Powder snow areas further expanded !
Added in 2014 are two new uncombed courses, i.e., Crystal Bowl and Kamoshika following Powder Wave, Powder Wave 2, Usagi, River Line and Powder Theatre.

These ungroomed arrangements present skiers with a thrill of powerful and dynamic backcountry skiing on the deep virgin powder snow.

The Adventure Aisle was developed in 2013.  Then, the traverse course was introduced to connect the top area with Crystal course and Powder Line, giving you a fantastic panoramic view.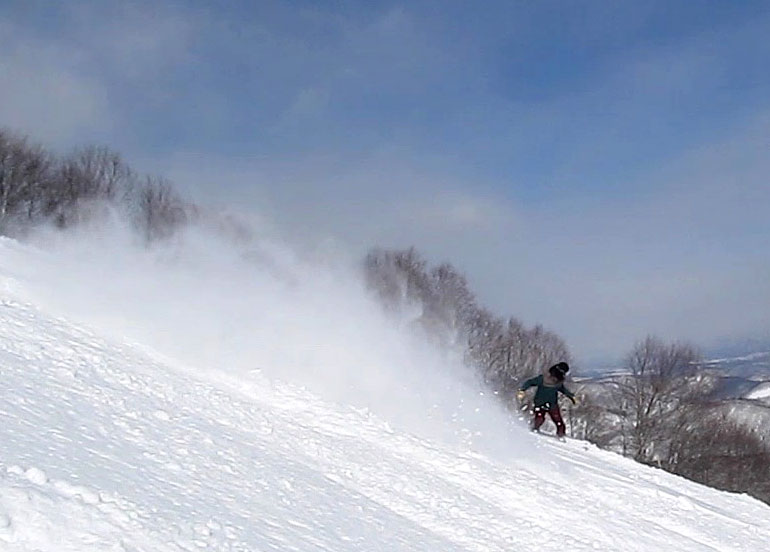 Dancing down the Madarao powder
 Powder snow area soon after snowfall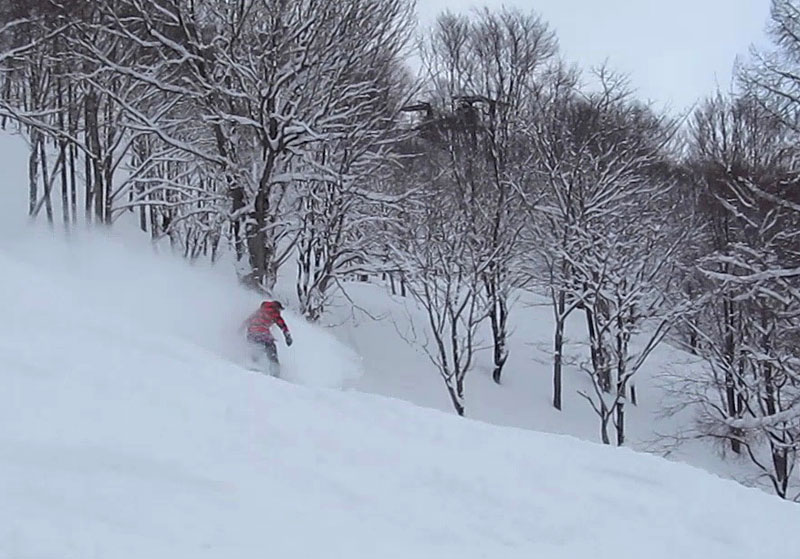 Tree-run course
Recent developments:

・the new course dedicated to curbing ski was introduced.

・New additional menus were brought into the free ride park opened in 2013.

・The lift operation for the new year eve countdown is 17:00 through 24:00 on 31/12.


The work on the Kids' Park is completed, which makes families rest assured of
the safety of their kids including the following enjoyments;

The snow vehicle " Snow Rabbit" will send you and your family to the Kids' Park from each car park through pickup shuttle service at ¥100/head/ride. It has three stops at Hotel Restaurant Shirakaba, No.7 car park and the entrance to the park, providing a round tour of the skiing area for a half hour

The new restaurant "Kids House Tyrol" is designed to fit in with the needs of families including the slide for little kids in the play room.

"Snow escalator" is in place for kids in the park.

The other arrangements include  courses solely for kid snowboarders, sleds  and tubing as well as the space for play with snow including making snowmen.

snow rafting

kid courses are in place exclusively for skis/boards, sleds and tubing

The space for play with snow meets the wishes of everyone irrespective of age, ability, etc.
| | |
| --- | --- |
| snowmobile Land | sled/tubing course |
・ The skiing area will be opened on Saturday, 19/12/2015.

・ Free ski/snowboard lessons for beginners are provided each day for a half hour.Entry can be      accepted until 9:15 a.m. each day at the skiing school (tel: 0269-64-3727).

・Music with DJ is on air including latest hit numbers requested by skiers. Requests can be accepted  at a box placed at each restaurant in the skiing area.

・ The kid ski days (third Sundays, i.e., 19/1, 16/2 and 16/3/2014) allow kids(below 12 yrs of age)   to enjoy lift ride free and ski/board lessons at a half price.
The north Nagano snow resort campaign is in place highlighting a stamp rally whereby you can get prizes by collecting stamps at 6 ski areas including Madarao, Nozawa, Togari onsen, kijimadaira, Sakae club and Kitashiga Ryuo. You can get a discount of ¥500 off the public lift price at each skiing area.

The shuttle bus service is available from Madarao to Nozawa or vice versa with a stop at Togari onsen. The pensions listed herein have a similar pickup service between Nozawa/Myoko and Madarao, enabling inbound skiers to enjoy skiing at the neighbouring ski areas. For details, please contact the listed pensions.

Shuttle bus service is in place from Nagano JR station direct to Madarao and vice versa each day during the skiing season leaving Nagano at 9:20 and 14:00 for one hour ride at ¥1400/adult and ¥700/kid.

The Shinkansen or bullet train service is going to commence from March, 2015 stopping at Iiyama, the new bullet train station located at the entrance to Madarao. The express bus transport from the new station to Madarao will also be brought into service concurrently. You can change for Shinkansen at Tokyo station to come direct to Madarao.

The Shinkansen will connect Tokyo and Iiyama at one hour and 40 min. then.
Restaurant Heidi introduces a variety of new menus in collaboration with the distinguished restaurants.
| | |
| --- | --- |
| porcini pastas | green curry |
Warm yourself up by Rahmen and big hambergers !
Restaurant Tyrol

Offers such extra big hamburger with a demi-glass of sauce including tomato.
 Restaurant Heidi

Tastefully hot ! It's RAO men.

You can enjoy genuine Japanese Rahmen topped with hot oil, stewed pork, etc.
Restaurant Shirakaba

Wild duck Rahmen has revived ! This is the leading menu re-

introduced at the request of many repeaters. It will certainly warm

yourselves up to the bones by juicy meat of wild duck coupled with hot soup.
Enjoy snowshoeing in Madarao
A field of snow world extends from behind the pension villages across the highland including lakes, marshes, deep woods, old villages, etc., giving you a fantastic ground for snowshoeing.  You can walk through the serene virgin forests across the frozen lake, looking over an expanse of glittering snow field from the hill top.

You will find yourself impressed and enchanted by the nature while treading through the snow field without footprints.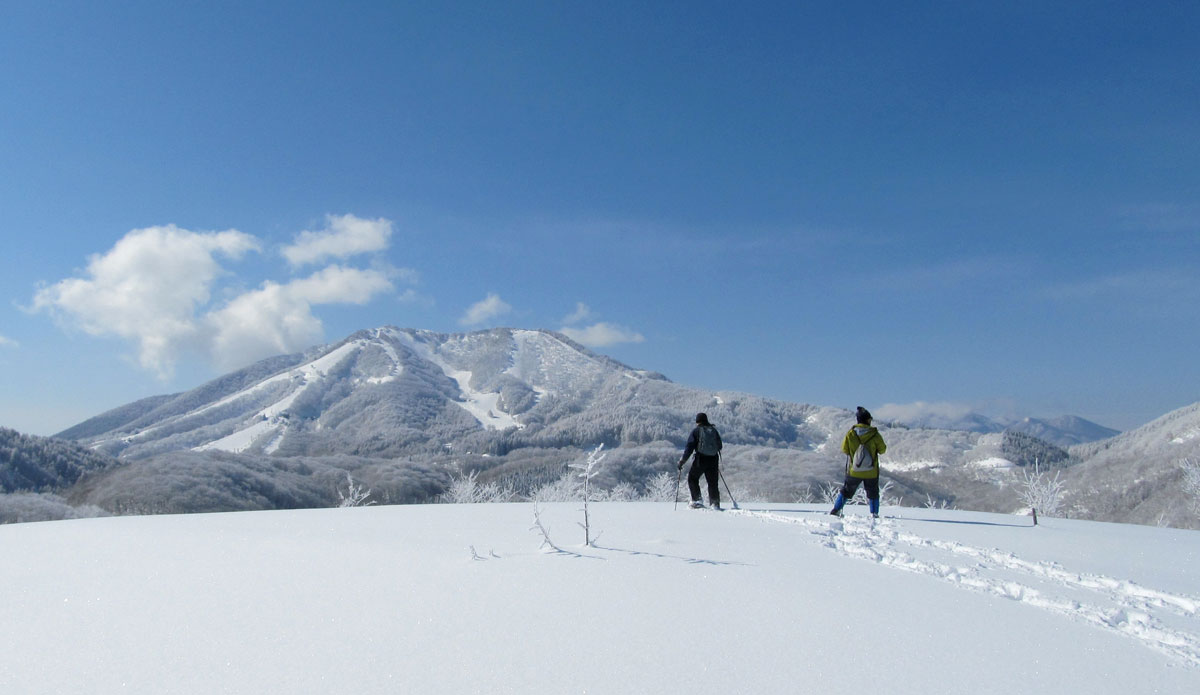 Outlook of Mt.Madarao from the east hill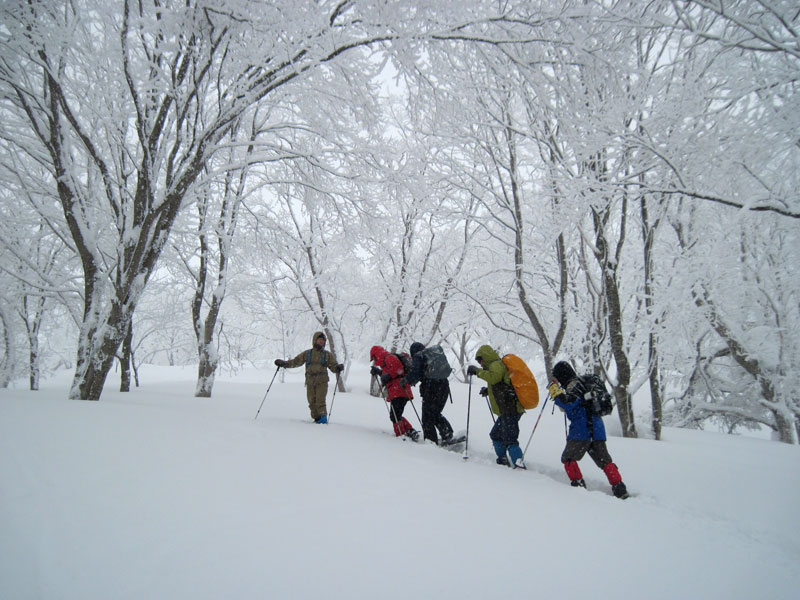 Snowshoeing into the forest
Ski schools:

SAJ Madarao Ski School     tel:  0269-64-3727

(running JSBA Madarao Kogen Snowboard School as well)

Lesson fee: ¥3000 / halfday    ¥4000 / full day


Car Parks:

8 parking lots accommodate 1500 cars.  No.7 and 8 Car Park is free of charge, others being toll parks.
・Madarao Tangram
Tangram is a popular ski resort for long stay lying on the northwestern slopes of Mt.Madarao. It has a compact combination of the ski park and hotel. You can fully enjoy your ski holidays while staying at the hotel having the indoor swimming pool, bubble bath, spas, etc.
Most exciting and challenging will be the ungroomed king's slalom course near the top of the mountain. The course has the maximum gradient of 33 degree full of bumps whilst you can appreciate genuine powder snow after snowfall. The other courses will enable you to enjoy comfortable cruising. You can ski down the spectacular course from the lake view line heading for Lake Nojiri enjoying the panoramic view of Hokushin 5 mountains.
The lift is connected with Madarao on the other side of the mountain via the joint ticket.
Iiyama station

on the Hokuriku Shinkansen Line

will open in March 2015

one hour 40 min. Tokyo-Iiyama

Kamakura Festival, Iiyama

Have dinner inside a snow hot !
・ Access
By car:   16km from Toyota/Iiyama IC on Joshinetsu Expressway

By train:  Take a community bus bound for Madarao at Iiyama station on Iiyama Line from JR Naganao station.

By direct bus: Take an express bus bound for Madarao at JR Nagano station (one hour ride )
・ For enquiry on Madarao
Shinshu-tabi.com.  e-mail  
elm@janis.or.jp
Madarao Kogen ski lift operator:  tel: 81-269-64-3214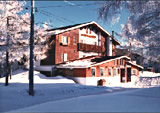 Tyrolean style highlighted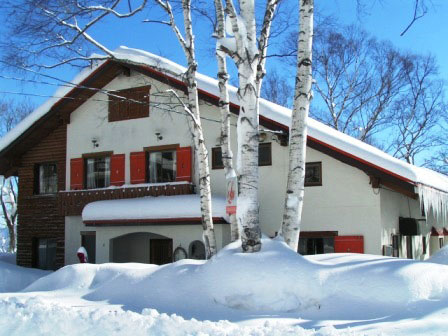 featuring Omotenashi by femine hospitality
For booking and enquiry
Madarao Kogen Onsen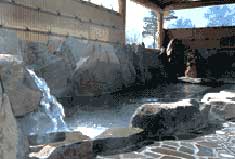 This is a spa located within Madarao Kogen Hotel at the foot of Mt.Madarao. It is open to the public including skiers, trekkers, etc. Towels are provided to users.

The contents of spa: sodium, calcium chloride

Effective for : neuralgia, muscular pain, articular rheumatism, cold constitution, cut

Open: 6:00 to 10:00, 11:30 to 23:00

Charge: adults ¥800,  kids( below 12 of age) ¥500

TEL: 0269-64-3311
Madarao-no- yu
This is a new spa developed in 2003 as a public spa house.  It is conveniently located near the Madarao skiing slopes, being popular amongst skiers, trekkers,etc.

It has a rotenburo or outdoor bath and sauna facilities.

The quality of spa: weak alkalinity

Effective for :  neuralgia, muscular pain, joint ache

Open: 10:00 to 18:00   18:00 to 21:00 (20:00 in winter)

Closed on : Tuesdays

Charge: 10:00 to 17:00  adults ¥500, 13 to 16 yrs. old ¥350, 6 to 12 yrs. old ¥200    After 17:00 the charge is discounted to ¥300 /adult.

TEL: 0269-38-3000
Trois Cinq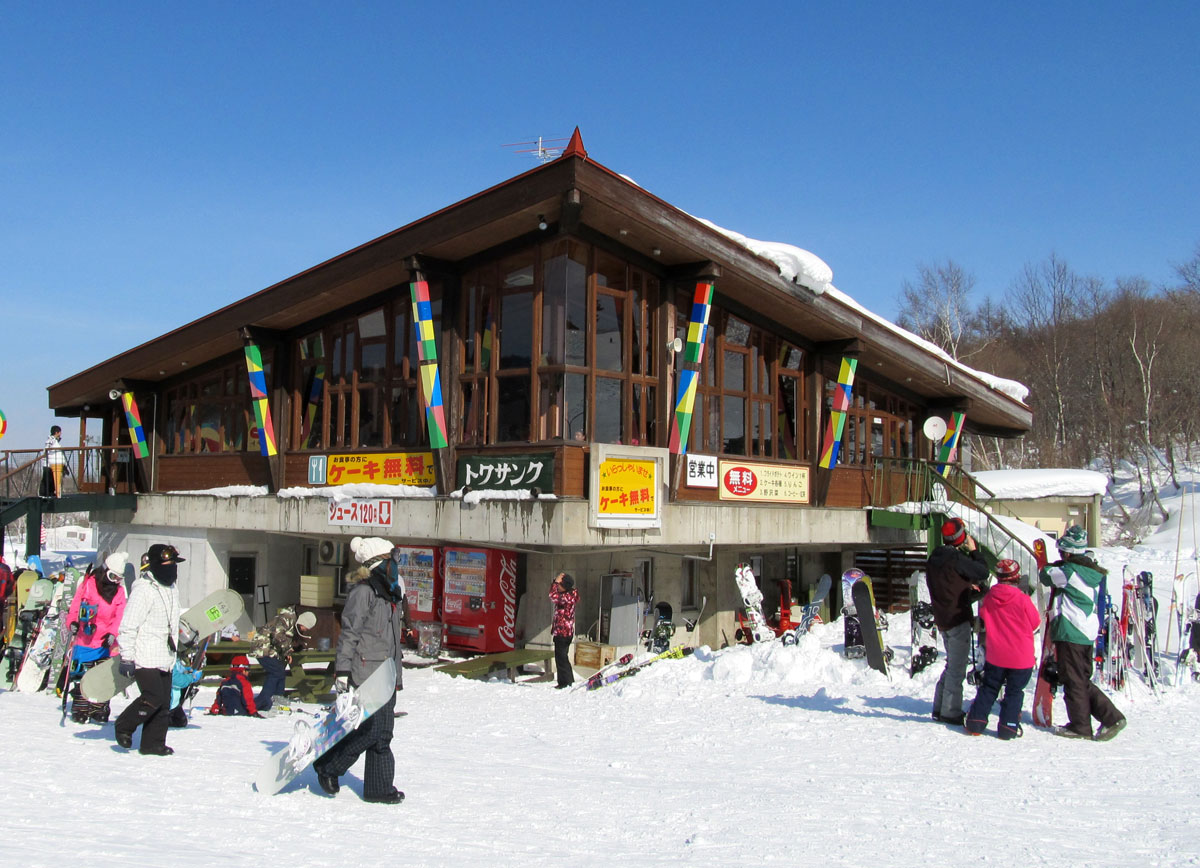 Located in the skiing area, the restaurant features its Italian menu including pasta, sea food curry, etc
  Rudolf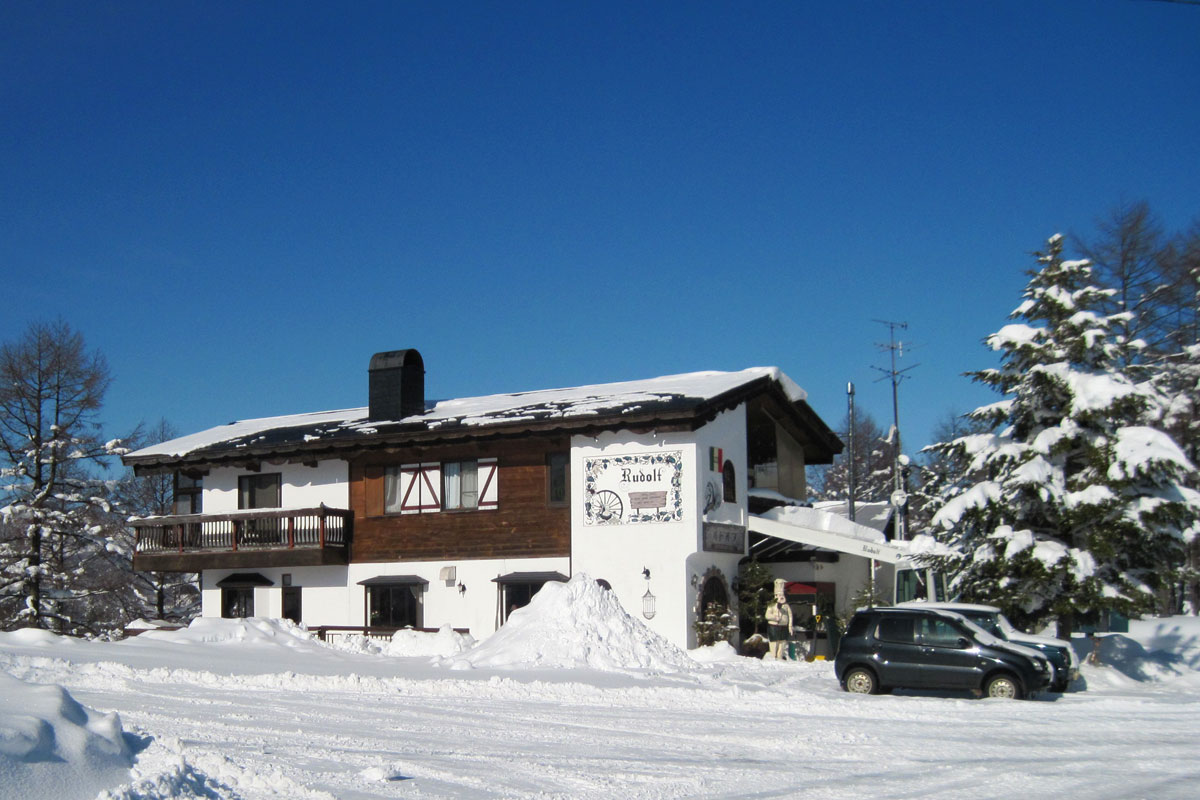 Located in the shopping plaza equipped with a professional oven ,offering soft-boiled egg and pizza as the most popular menu. Other favourites include omelet fried rice,

Cheese-topped rice casserole, various pasta dishes and cake sets. Local wine and sake are available. The fine interiors create superbly calm atmosphere.
Places you may wish to visit
 Snow Monkeys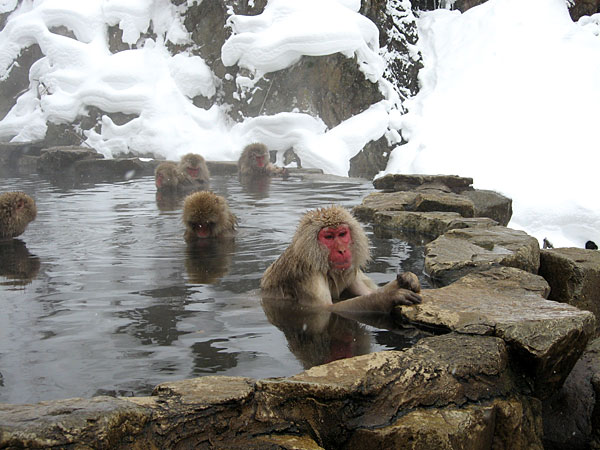 Wild monkeys live fed in the Jigokudani natural park near Shibu onsen in Yamanouchi, seen to bathe in the hot spring in the snow on the Yokoyugawa .

The most impressing is their comforting look very much like human beings.
Zenkouji Temple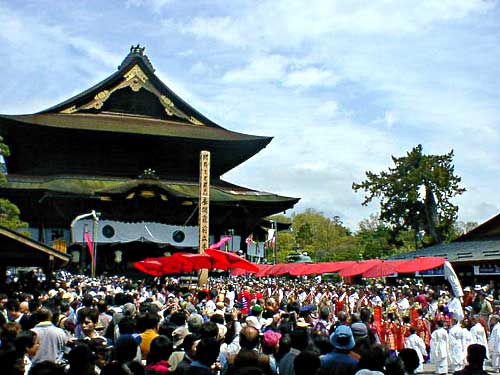 Zenkouji is one of the most historic temples in Japan being popular amongst the common people irrespective of sectional distinction in Buddhism.

More than 7 million worshippers each year visit the old temple believing in the legendary word that a single visit to the temple in lifetime will insure a passport to the paradise of the Buddhists.
Iiyama as little Kyoto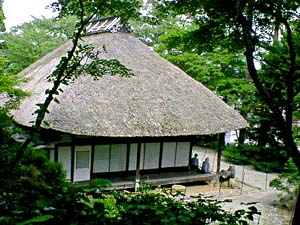 Iiyama is called as little Kyoto in Shinshu or in a snowland, scattered with 22 temples located around the ruins of Iiyama Castle.
The traditional festivals, events, etc. have been handed down to the present. The most historic temples include Syojuan as a Zen temple and Shinshuji.
Takahashi Mayumi Doll Museum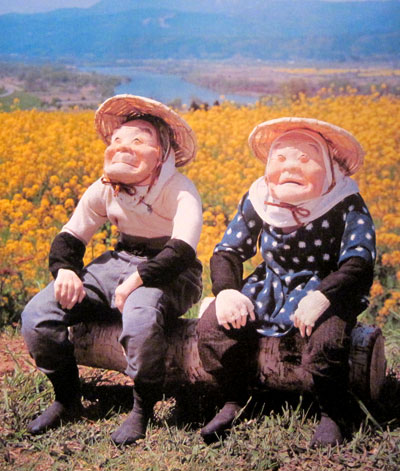 Tips on local hot springs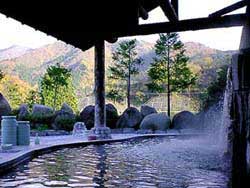 Northern Nagano abounds in hot spring, called as the paradise of hot springs.

Easy access is available from Madarao to such old spa resorts as Nozawa, Shibu, Yudanaka, Shigakogen, Myoko. There are two hot springs in Madarao as above and many other public hot springs nearby.
Shinshu Soba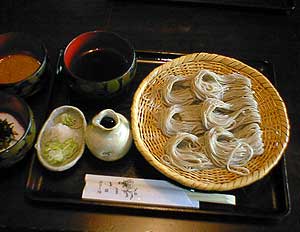 Shinshu as the old name of Nagano is the home of soba where you can enjoy the real taste of genuine Shinshu soba in many local soba restaurants. Iiyama has some such restaurants.
Walk in Obuse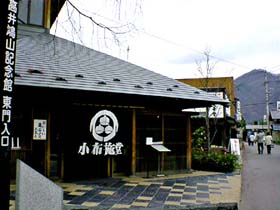 Located within a half hour's drive of Madarao is a charming historic town of Obuse known as the town of Katsushika Hokusai, a famous artist in the Edo period and of chestnuts.  You will be impressed by the landscape of the town including old streets. 
Chestnut cakes add to seasonality as the most popular souvenir.