Skiing in Nozawa Onsen in fine weather
for movies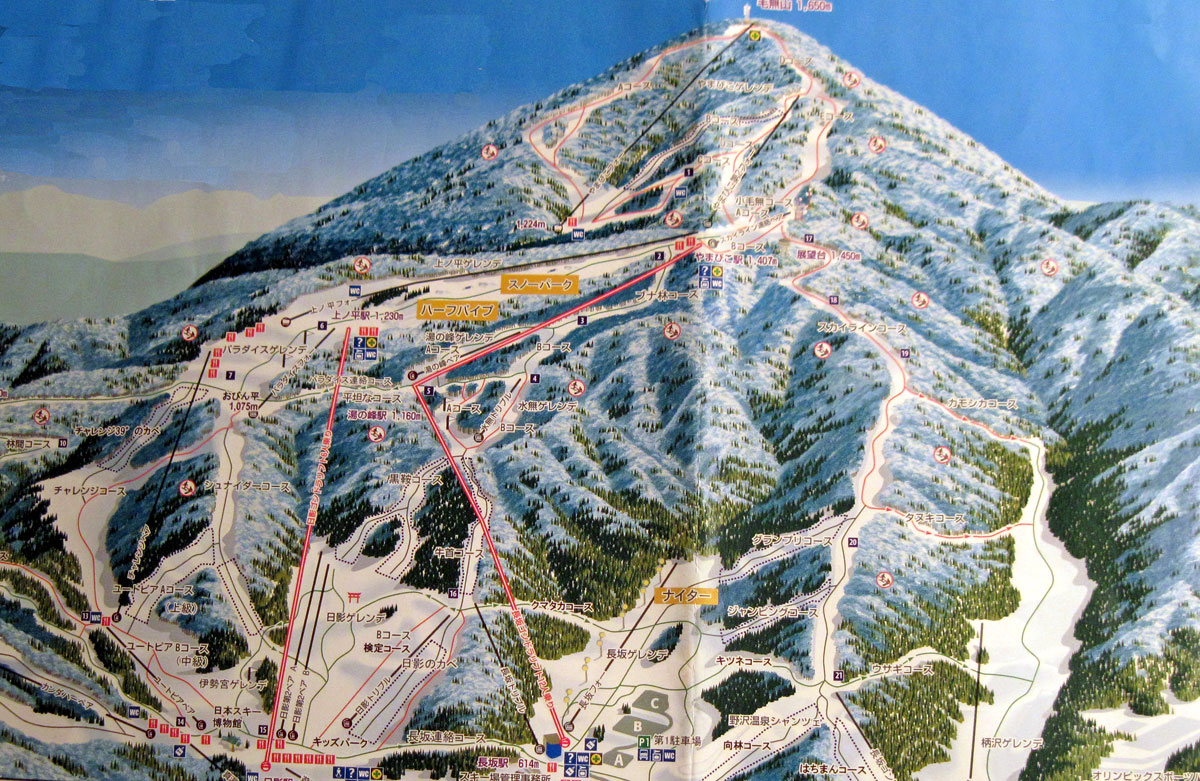 Course map
You can check further details as some lifts may not be operational subject to local conditions.
A variety of courses extend down Mt.Kenashi including the Shneider Course as the most famous course reprersenting Nozawa. The course is a real expert bahn with the max. gradient of 32 degree and the length of 1.5km.  The Utopia Course located just below Shneider is a knotty, fairly steep and wide bahn. 

The course from the summit of Mt.Kokenashi leadind to the Skyline Course along the ridges is 5km long with 880m as the difference of altitude, promising you a satisfactory and fairly tense cruise.  The course is suited for skiers above the intermediate level.

The other courses including Nagasaka, Karasawa, Hikage, Uenotaira Course, etc. have long and gentle slopes which the beginners can enjoy.  The Yamabiko Area located just below the top has a spectacular outlook coupled with the snow of superior quality.  It has properly gentle slopes recommended for the intermediate and advanced skiers.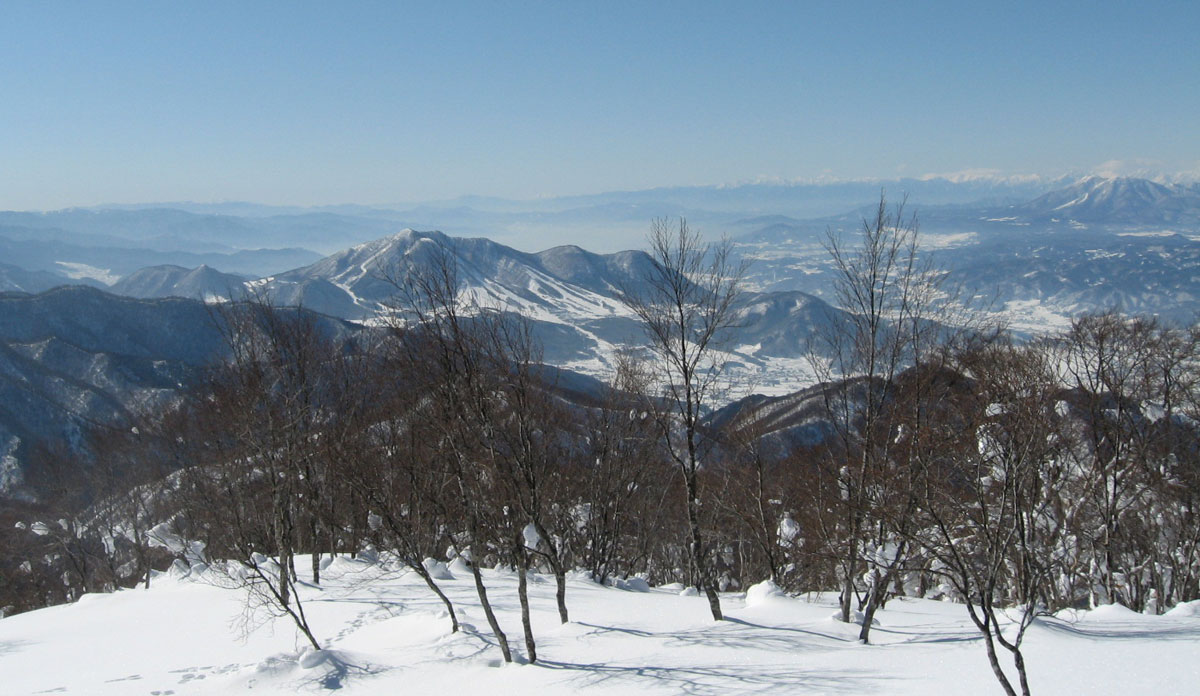 Panoramic view from the top of Mt.Okenashi
Effective from November, 2013 through May, 2014
  Lift operation
 * 8:30 through 17:00 (16:30 before 1/2/2014)
 * Operatinal period: December through 6/5/2014)  
 *Total length of courses:  approx. 10,000m   
 *Altitude:  565m ~ 1,650m
 *Difference of altitude:  1,085m
 *Size: approx. 297ha
 *Course aptitude: beginners 40%, intermediates 30%, advanced 30%
 *Number of lifts: gondolas 2, chair lifts 25
  Lift fares

・

Adult

Kid

Senior(above 60 of age)

  One ride ticket

¥400

¥200

-

Joint half day

¥3500

¥1500

¥3000

Joint one day

¥ 4600

¥2100

¥3500

  Joint 1.5 day

¥7500

¥3500

¥5000

Joint 2 days

¥8500

¥4100

¥6000

Joint 3 days

¥12000

¥5500

¥9000

Joint 5 days

¥20000

-

-

Joint season

¥60000

¥50000

¥55000

  Night ticket

¥1500

¥800

-

Nagasaka gondola

single 1600

¥800

-

Hikage gondola

single 1200

¥600

-

* All joint tickets allow you to ride gondolas

* Half day tickets are good for 8:30 through 13:00 as AM ticket and 12:00 through

16:30 until 1/2(or 17:00 thereafter) as PM ticket.

* Kids are below 12 of age and seniors above 60.

* Yen 1000/head as deposit is required upon purchase of tickets.
Facilities

* Dressing rooms (free, located inside Karasawa Ski Centre)

* Dressing rooms (free, located inside Nagasaka gondola station)

* Nursery"Yumin" (located on the 2nd floor of Hikage Information Centre, yen 2,500 halfday, yen     4,000 whole day)

* Restaurant: Panorama house Buna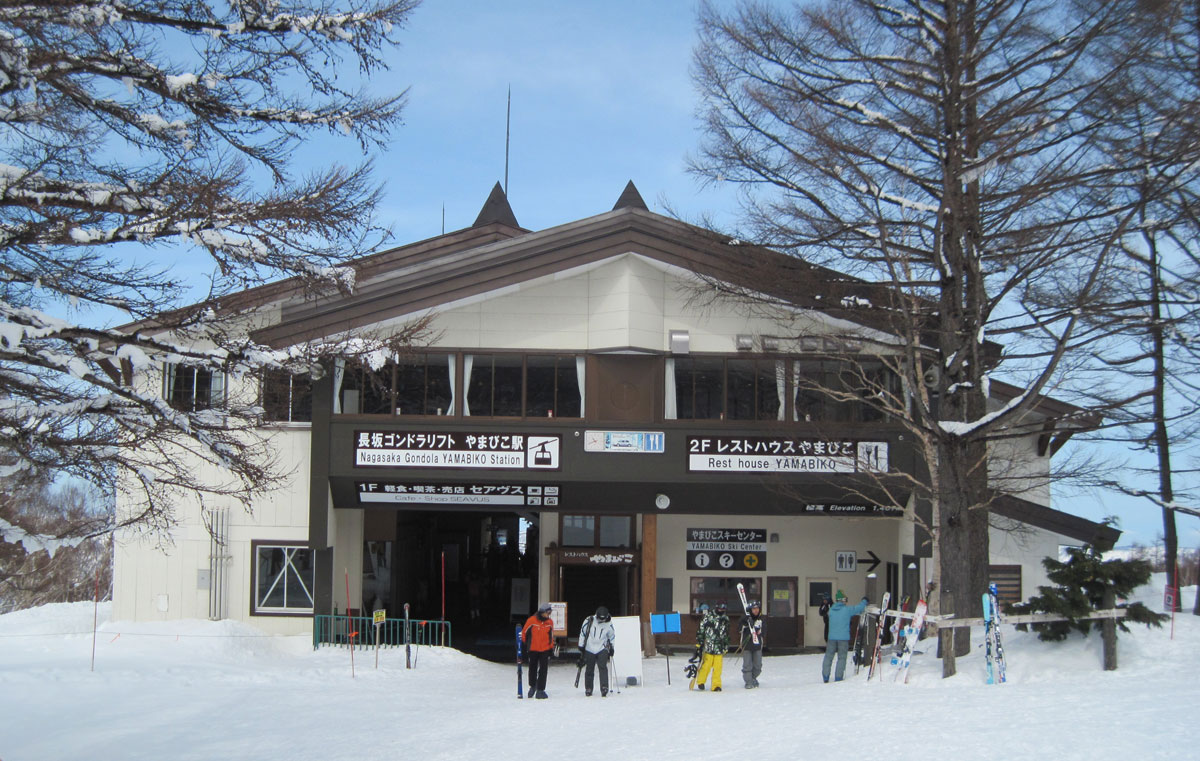 Restaurant Yamabiko located near the terminal of Nagasaka gondola
Special services
Family skiing package for 1/3 through 10/3
 * One day plan (1 adult + 1 kid below 12 of age)    yen 5,300
 * One day plan ( 1 adult + 2 kids)    yen 6,800
 Children's Ski Day: the 3
rd
Sunday of each month for December through March, i.e.,
 15/12, 19/1, 16/2, 16,/3
 Ladies' Day
Special service is arranged on 23/1, 27/2 and 27/3 for the ladies who use restaurants.
 Discount for lift tickets at the following skiing areas in northern Nagano:
You can get yen 500 discount off for one day ticket upon the presentation of used one day tickets at Nozawa Onsen, Kijimadaira, Sakae Club, Togari Onsen, Madarao Kogen and Kitashiga Ryuo Snow Park.
 Latest news
 *The 300m-long Snow Park inaugurated in the 2012/13 season has introduced various tricks including quarter pipe, wave, table top, etc. to please boarders, skiers and fun skiers.
 * The Snow Park has been born in Uenotaira including the well maintained half pipe.
 *The Kids' Park was introduced to give fun to family skiers          
Event calendar

21/12

Opening Festival

22-23/12 

X'mas in Nozawa

31/12 

Night skiing and New Year Countdown fireworks

1/1

Happy New Year casked Sake for free

11/1

Winter Festival

4/1-30/3

Every Sat.& Sun.  Let's play with Naskie at Hikage

15/1

Fire Festival (Dososhin Matsuri)

20/1,17/2.10/3

Let's enjoy skiing with famous skiers, free lessons

14/2

Valentine's Day in Nozawa , chocolate fondue for free

1/3

Winter Lantern Festival 

14/3

White Day in Nozawa

22/3

Family Festival

30/3

Spring Mountain Festival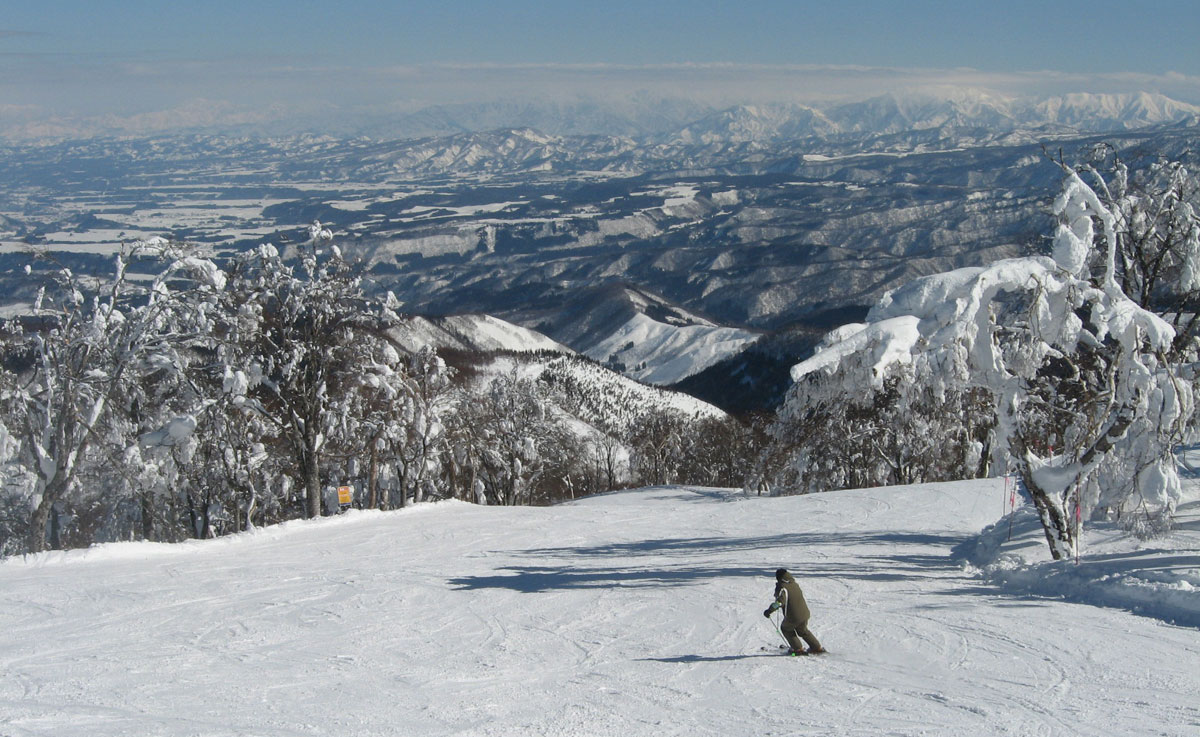 Yamabiko (echo) Course
Snowshoe trekking on Mt.Kenashi
There exists the untouched nature on Mt.Kenashi including woods of beech trees, the top area having spectacular outlook, etc., which provide fantastic location for snowshoeing and trekking.

The most appropriate period for snowshoeing begins at mid-February when the snow becomes firmer. You will certainly feel the softness of the powder snow in the  woods of beech trees.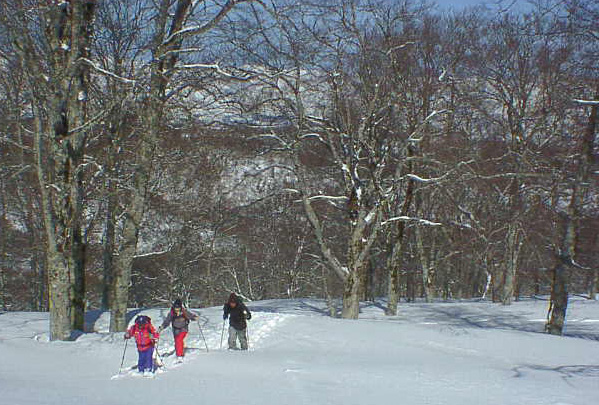 walking through the fresh snow in the forest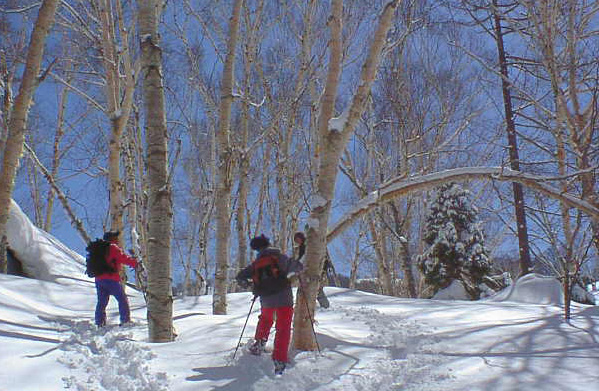 Woods are the world of wonder.
Ski schools

SAJ Nozawa Onsen Ski School     TEL: 0269-85-2623

Ski lesson fee:       yen 3,000 (half day)     yen 4,000 (one full day)

Snowboard lessons:  yen 4,000 (half day)     yen 5,000 (one full day)

Parking lots

8 car parks Parking fee: yen 700 (one day), yen 1,500 (one night / two days),

Karasawa/Minamihara are free on weekdays without stay at night.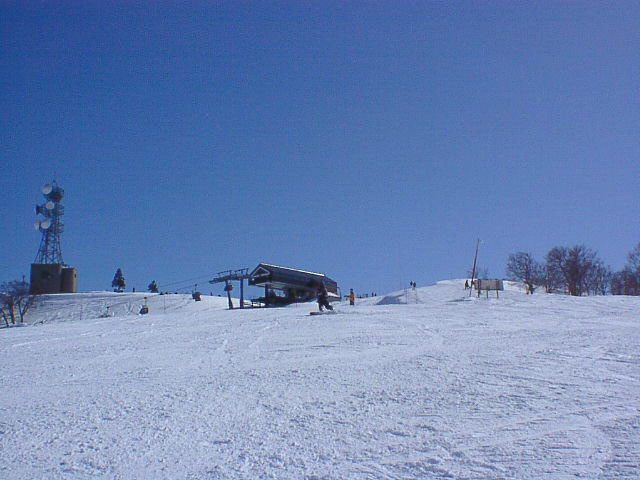 The summit area of Mt.Okenashi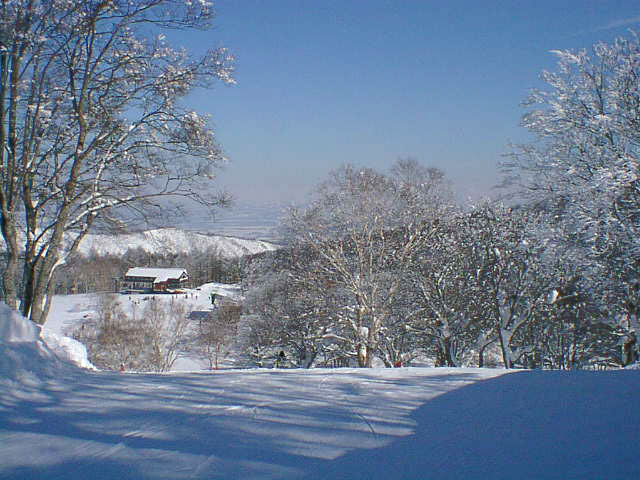 Tree-run course through the extending forest of beech trees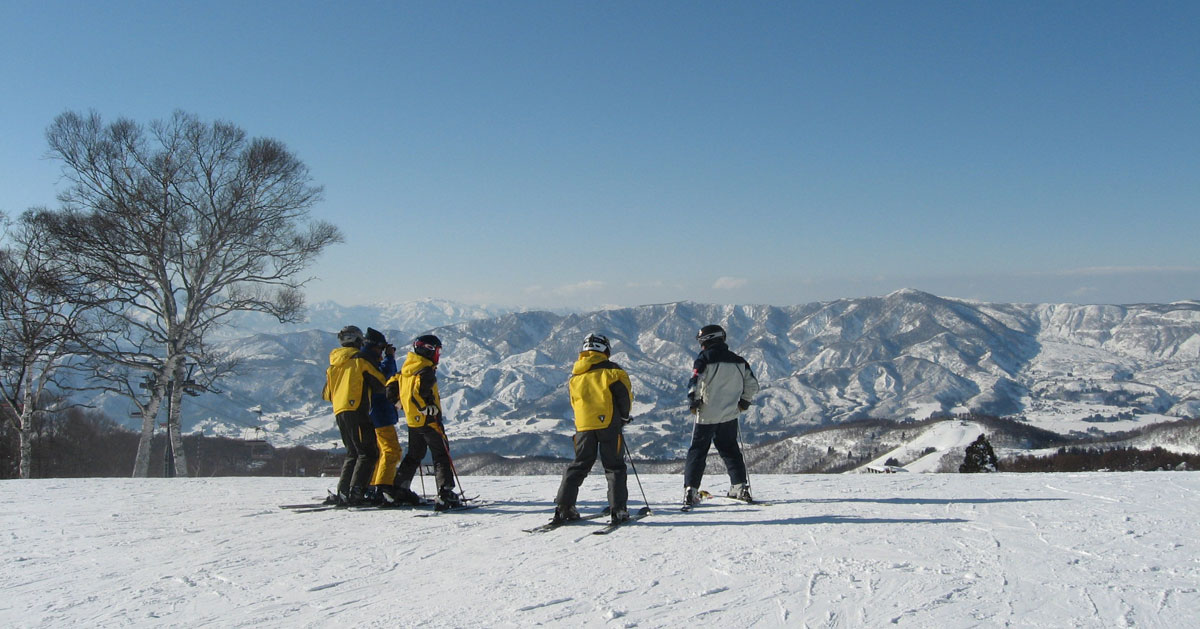 At the top of the Paradise slope
Access
By car :  20km from Toyota-Iiyama IC on Joshinetsu Expressway

By train :  15 min. by bus from Togari-Nozawa Onsen Station on Iiyama Line
For enquiry
Nozawa Onsen skiing lift operator:   TEL 0269-85-3166

Nozawa Onsen Tourism Association:  TEL 0269-85-3156合
Local Fire Festival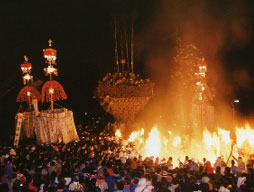 Traditional fire festival in Nozawa Onsen
The festival held on Januaey 15th each year is highlighted by harsh fight by fearless men.It is listed as one of the cultural heritages in Nagano.visited by so many people
Japan Ski Museum
You can see the history of skiing in Japan including ski gears used in Nozawa as the birthplace of skiing in the country.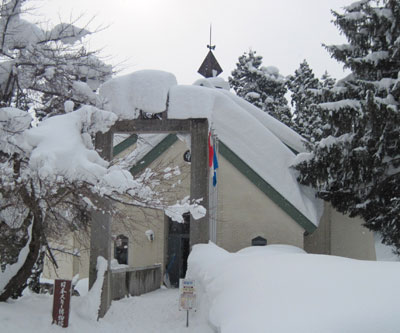 The ski museum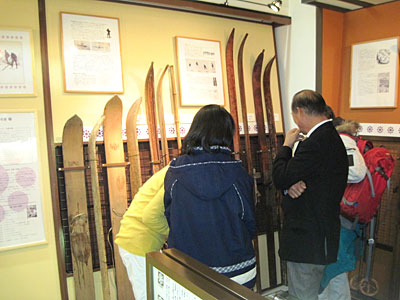 Inside the museum
・ Nozawa Sparena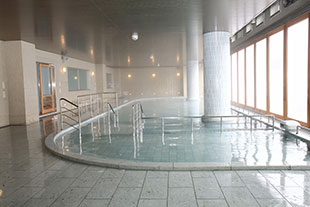 The Sparena was opened after renewal works in December, 2013. It is a spa where you can bathe in swimming suit. You can feel refreshed and recovered from the fatigue of skiing or boarding. Fees are yen 700 for adults( above 12) and yen 500 for kids (3 to 7 yrs.old).
・ Ogama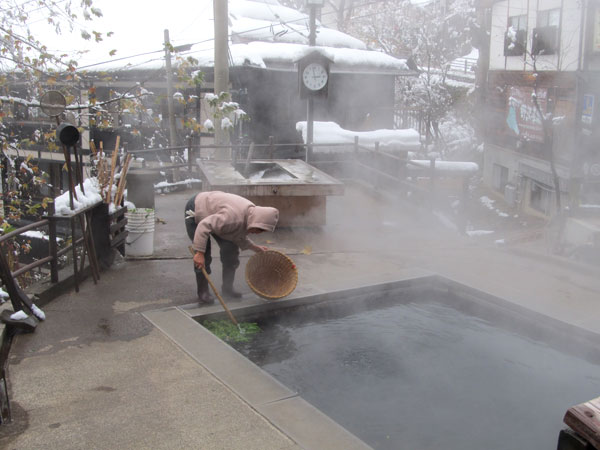 There are 30-odd hot springs in Nozawa, the sources of which are called Ogama being the symbol of Nozawa. O means hemp and gama is an iron pot. In old times, hemps were boiled here for easier peeling. The name dates back to it.  Designated as the natural heritage of the country, Ogama is called as the kitchen

of Nozawa where they boil eggs ,vegetables including Nozawana used for the traditional pickles, etc. They take them back home and eat them.
・ Ooyu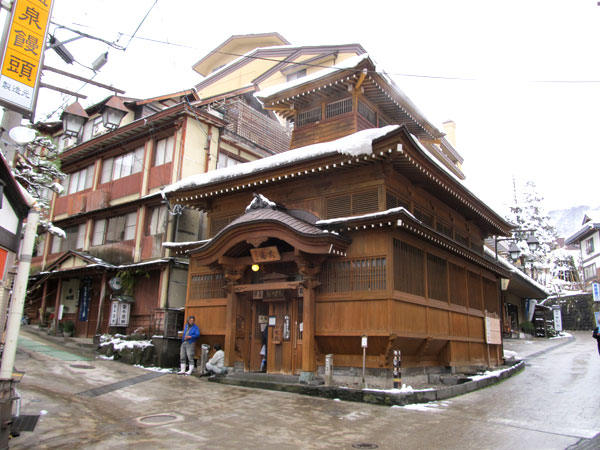 This public bath is built in the style of architecture used for the public bath houses in the Edo period. The three storied wooden house keeps the cultural atmosphere of the Edo period. It is located in central Nozawa as the symbolic place representing the hot springs in Nozawa
・  Snow Monkeys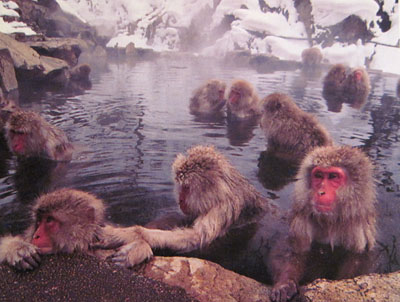 Wild monkeys live fed in the natural park in Jigokudani, Ymanouchi nextdoor to Nozawa. There is a spa exclusively used for wild monkeys there on Yokoyu River.

You can see them bathing comfortably in the snow.
・Kosuge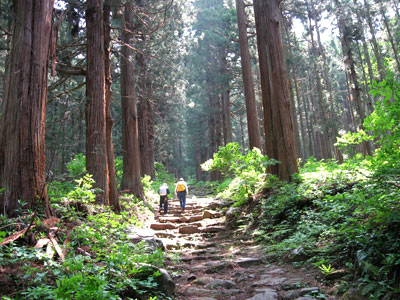 The Kosuge Shrine was built in 680, called one of the three practice grounds for priests in northern Nagano including Togakushi and Iizuna. It is said that there existed its annexes accommodating over 300 priests and other people.  It has such a long history, surviving the repeated wars.