Oku Davos fox alpine course is a 1km long slope combed, enabling you to ski comfortably. The main courses in Omote Davos are mild slopes with the gradient of 10 – 20 degree fit for beginners. Davos Taro is divided into Omote Taro and Ura Taro. You can slide into any course you like, from the top of the mountain. You will certainly appreciate the real joy of skiing.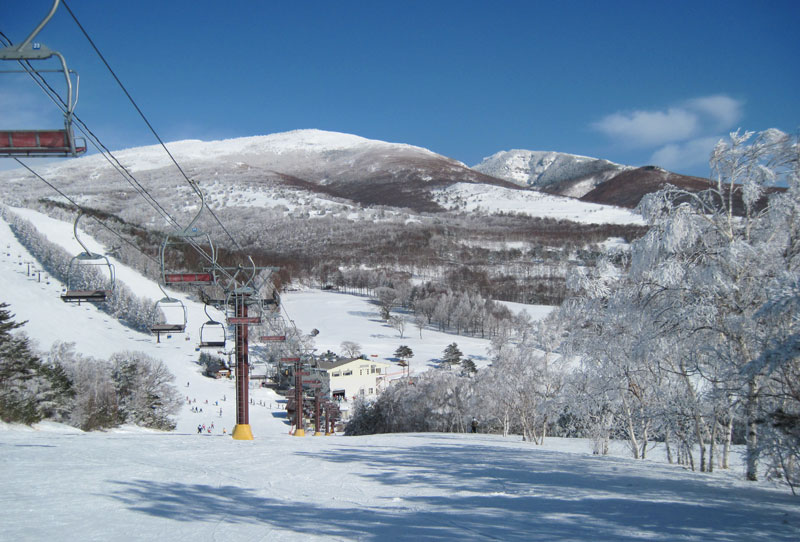 To Oku Davos area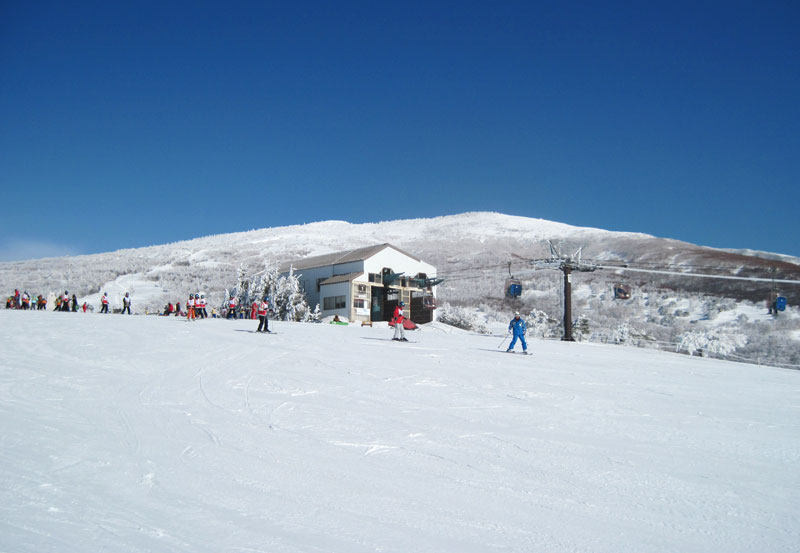 The terminal stop in Oku Davos
Pine Beak area has both Ohmatsu and Tsubakuro course requiring high level skill.
Ohmatsu Challenge course is recommended for advanced skiers, having the gradient of 36 degree. You will certainly appreciate a sense of satisfaction once you have skied there. This course is popular amongst moglers and expert skiers.
Champion and Panorama course in Tsubakuro with mild slopes allow you to enjoy speedy slide, having no restrictions on boarding. Pine Beak area is recognized as slopes with the genuine powder snow of top quality inspiring all skiers with winter spirit.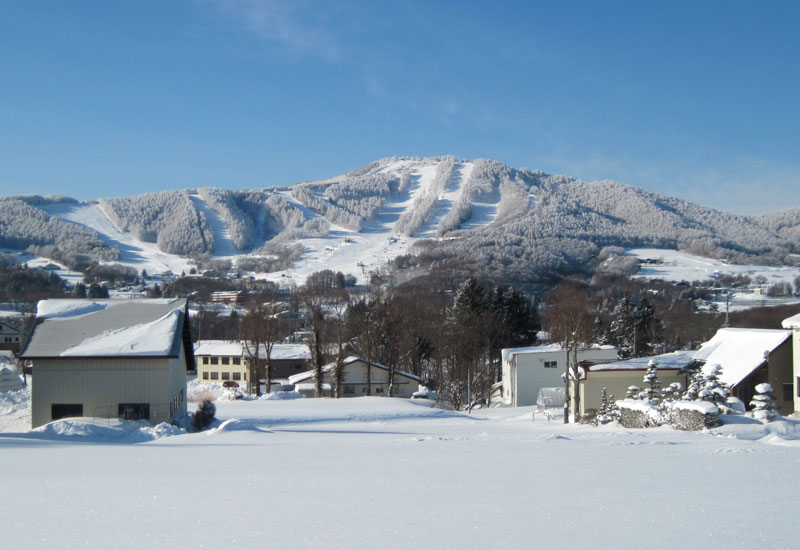 Ohmatsu area in Pine Beak
・Tips on Sugadaira
1.  Lift operation: 8:30 through 17:00
            18:00 through 21:00 for night operaton
Period: December through early April
Longest distance: 4,800m
Altitude: 1,220 to 1,650m
Difference of altitude: 430m
Area: approx.. 175 ha
Course Variation: 20% for beginners, 60% intermediates and 20% advanced skiers
Lift: 24, 36 courses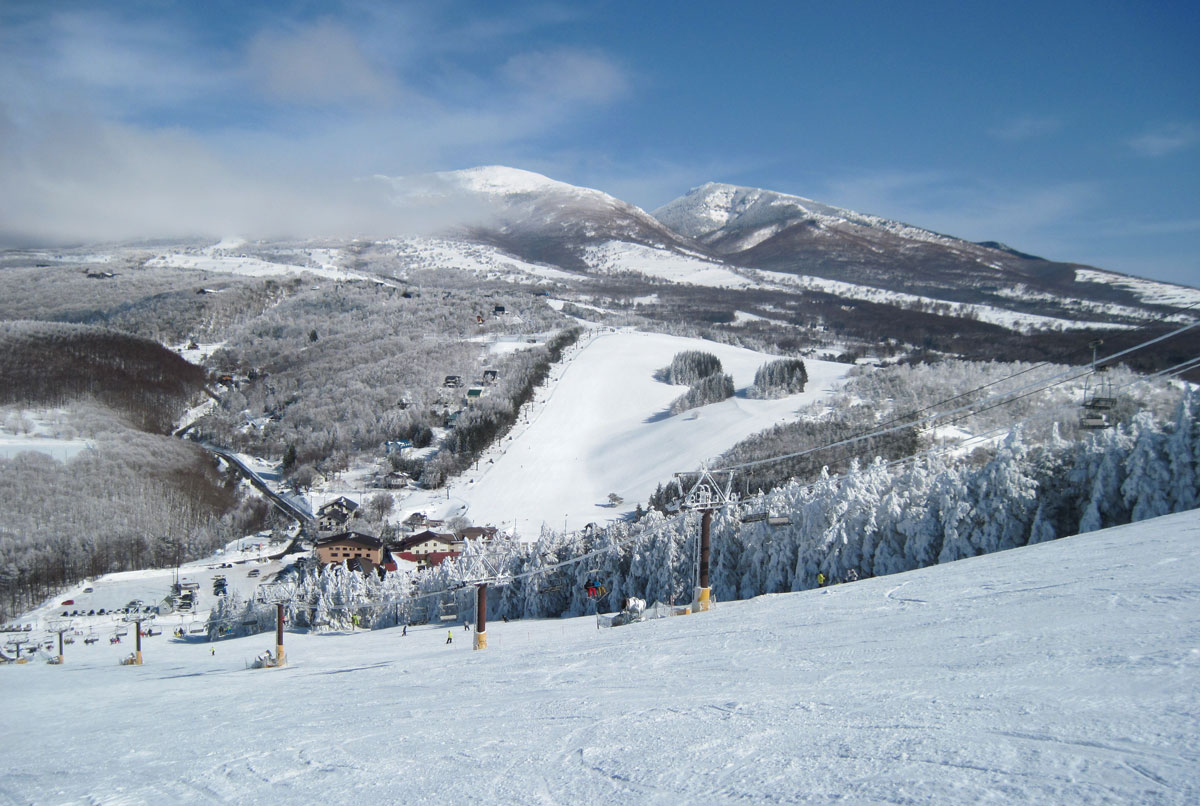 View of Mt.Nekodake from the slope on Mt.Taro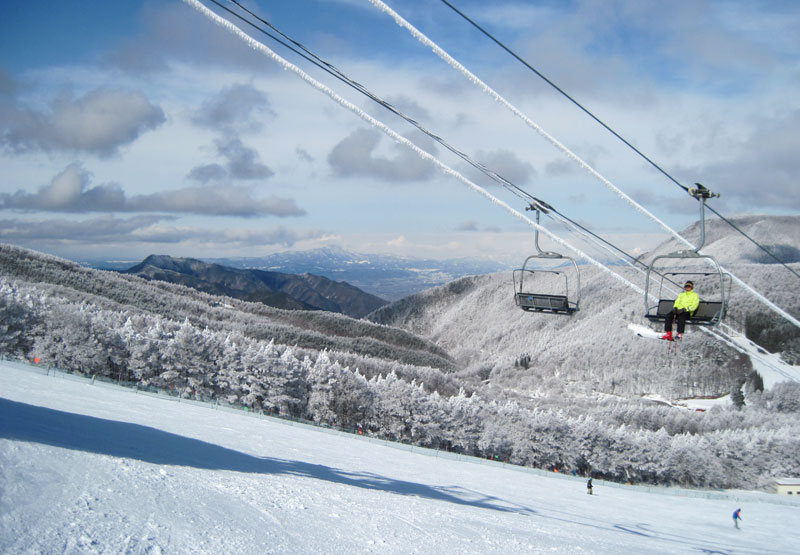 The 3
rd
stage lift on Taro course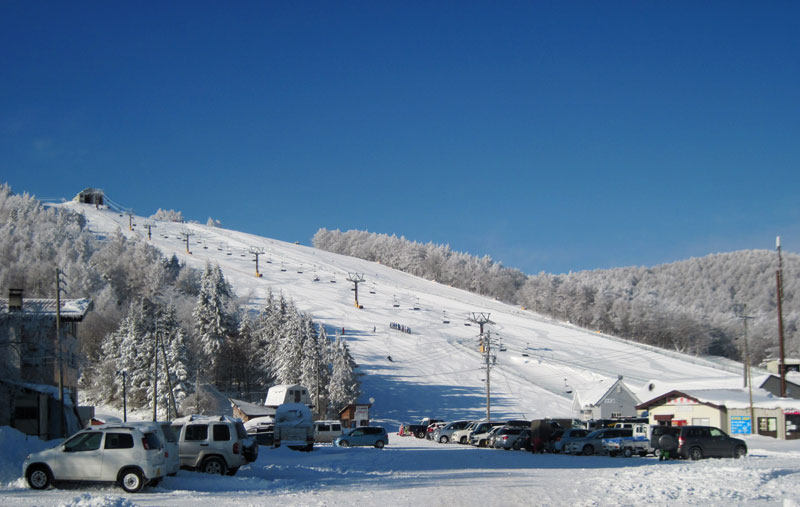 Taro slope
Ski lifts operational
hours:  8:30 through 21:00

・

 Adults

 Kids

Students/seniors

Single ride ticket

500yen

400yen

500 yen

1 day

4400yen

2700 yen

3400yen

2 days

7600yen

5000 yen

6600yen

4 ride coupon

2000 yen

1500 yen

2000yen

3 hours

3100yen

1600 yen

3100yen

10 ride coupon

4500yen

3500 yen

4500yen

for the handicapped

2200 yen

2200yen

2200 yen

Season

60000yen

35000yen

50000yen

●Kids are 3 to12yrs old.

●Students are13 to18 yrs old as students of junior and senior high schools..

●Seniors are above 55 of age.

●Kids below 3 yrs old are free of charge except for IC chip deposit of 500 yen.

● 500 yen deposit for IC chip is required.

● 2,200 yen for 1 day and 4,000 yen for two days are available for the grand seniors above 65 of age.
  Facilities available

● Lockers, rest rooms in each area open during 7:00 through 18:00
● Restaurants:  Space 3, Monterosa, Flying fox
● Nursery " Session Club"(TEL:0268-74-3174), Ohmatsu Nursery (TEL:0268-74-2138)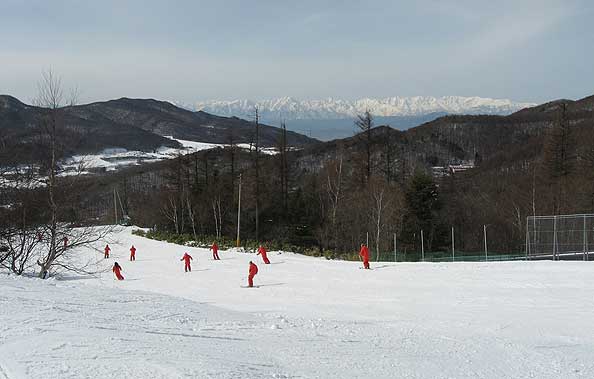 Skiers on Mac course against the North Alps
1.   Latest news

1)  The slope for kid slides was introduced in the family snow park.
2)  The snow mobile land is operational.
3)  Newly introduced is the snow board park.
4)  The Shneider Park was opened.
5)  The giant wave thoroughfare was completed in Omote Davos.
6)  Ohmatsu ski/board cross course was introduced.

Events:
  Dec. 5th                   Opening Festival
   Dec.31st through jan.1st     Thanks events
   Early March               Snowballing games

 Special services:

Skiing kid days on the 3rd Sunday each month are planned, allowing all kids below 12 yrs old to ride the lifts free and all kids 10 -12 yrs old to enter the ski school at half price.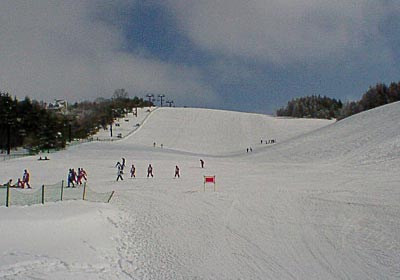 Wavy slopes and the blue sky
 Backcountry on Mt Nekodake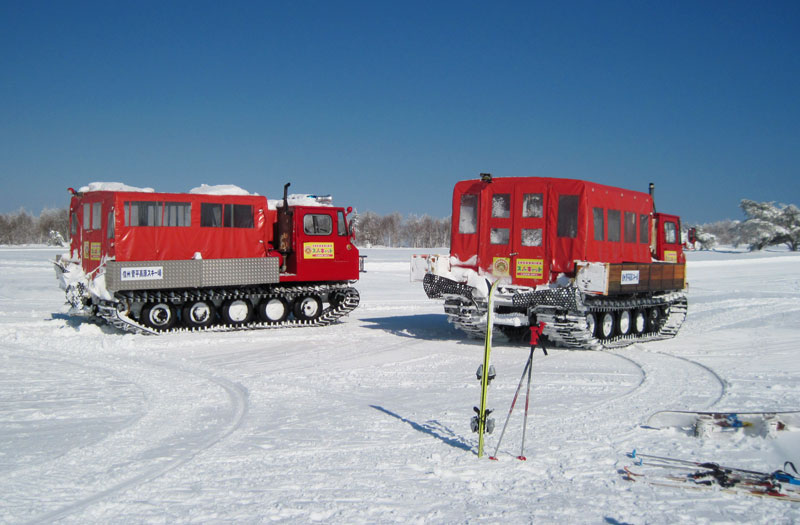 Riding the snowcat bound for the world of powder snow
 Tips for powder hunters to enjoy snow fantasy from the top of Mt.Nekodake:
●Guide charge: 3,300 yen (above 12 yrs old) and 1,800 yen (for kids below 12 yrs old)
● Period: early January through end March subject to snowfall
●Time: 9:00 through 15:00 (7 courses every hour each day) subject to change
due to climatical conditions.
● Reception: No.1 triple lift stop at the summit of the mountain in Urar Davos Ski Park or the lift ticket office.
●Booking:  Ski lift Centre of Ura Davos Ski Park at TEL: 0268-74-3009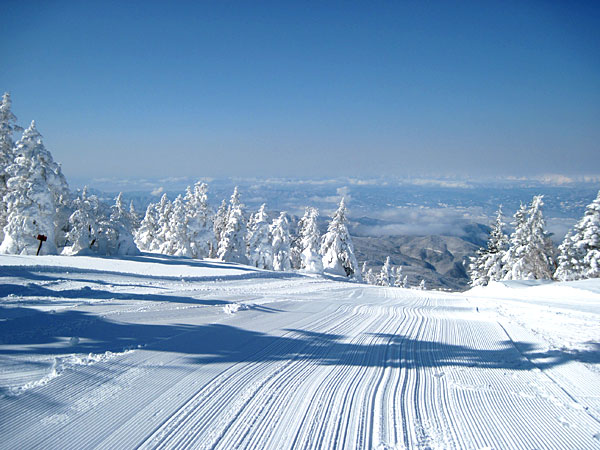 Movie of Mt.Nekodake backcountry tour from the summit thereof 
to move
School:

 


SAJ Sugadaira Ski School (TEL: 0268-74-2740)

Parking Lots:


12 car parks with the capacity of 3,000 cars (free of charge)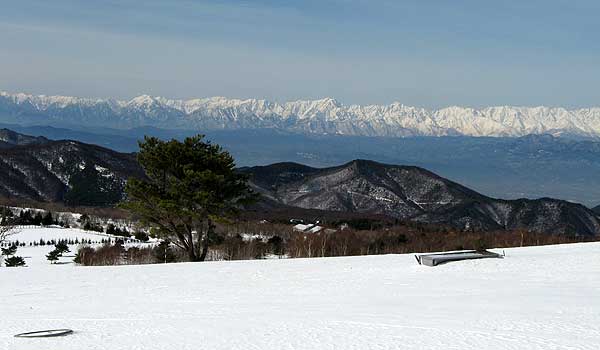 The view of the North Alps from the top area of Urar Davos
 Access
 By car: 19km from Ueda Sugadaira IC of Joshinetsu Highway
 By train: 60 minutes by bus from Ueda station of Nagano Shinkansen (bullet train)
  Enquiry
Please call Sugadaira Ski Park at TEL:0268-74-2003
It is a resort hotel located in the skiing park, allowing you to feel at home.

The hotel is owned by the second generation being a new leader in ecological activities in Sugadaira.

It is managed as a hotel heading for the friendly co-existence with the nature.
Information on places to visit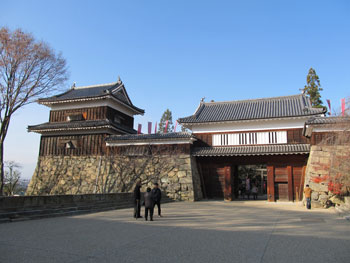 1.  It is an old castle famous for Yukimura Sanada as the strongest warrior.

He defeated the Tokugawa army twice, defending the castle. In spring Sakura Festival is held at the castle in the elegant and gorgeous atomosphere.
The snow monkeys attract the attention of many people in the world.

The wild snow monkeys live at Jigokudaki Natural Park in Shibu onsen, Yamanouchi, where the charming monkeys are seen to bathe in the open-air spa in the snow exclusively for the monkeys.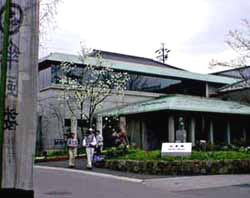 Obuse is well-known as a small town of chestnuts and Hokusai. Edo woodblock print painter Hokusai used to visit Obuse and produced many works there.

His works are on display at the Hokusai Museum. The small town charms many visitors all the year round, including tea houses, restaurants, galleries, small shops, etc.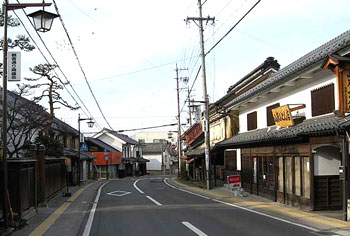 The city is an old town with warehouses which used to thrive thanks to the production of silk. Many old houses with warehouses still exist to attract the attention of visitors.
The places to visit include Tanaka Family's House as the wealthy merchant, Ryuga Park famous for cherry blossoms, the doll museum, the preservation area of samurai's houses, etc.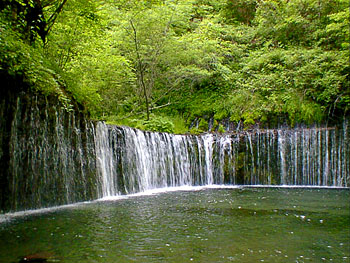 Karuizawa is a summer resort where you can enjoy shopping, walking, eating, etc.
The town has scenic spots including Shiraito-no-taki, Oni-no-oshidashi, etc.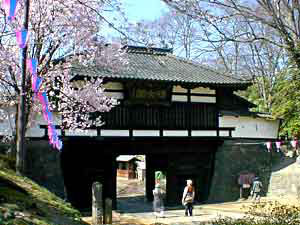 Komoro is a town which Tohson Shimazaki, a famous novelist used to live in and love, including Kaikoen, the ruined castle all being well reminiscent of the old ages.